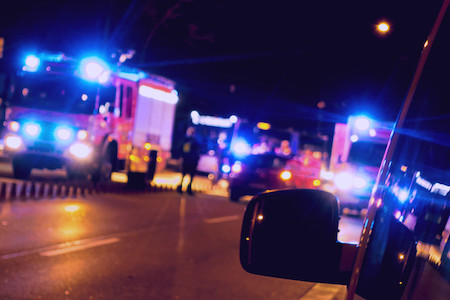 Motor vehicle accidents involving passenger cars, trucks, motorcycles, bicycles and pedestrians happen at alarming frequency throughout the United States. According to the National Highway Traffic Safety Administration, the number of people injured on U.S. roads because of motor vehicle accidents increased in 2015 to an estimated 2.44 million. Accidents involving passenger vehicles, alone, occur every minute of every day.
No statistic can capture the horrific experience of being involved in a serious motor vehicle accident. The effect it can have on your life or that of someone you love can be life changing. If you or a loved one have been injured in a motor vehicle accident, or if a death has occurred, you may have a legal claim for compensation. The lawyers of Dugan, Babij, Tolley & Kohler will provide a cost-free review to assess your potential case and to explore your legal options. There are no upfront or no out of pocket charges required to obtain a through legal review.
While we can't turn back time or make the pain or loss go away, we will strive to help you receive the financial resources you or your loved ones need to recover, heal and to obtain the just and fair compensation you deserve for all of your losses and damages. Our experience in dealing with motor vehicle insurance companies, law enforcement personnel, motor vehicle accident reconstruction experts and other specialists is significant and proven to be effective. We will thoroughly investigate and litigate your motor vehicle accident case with the care and diligence you deserve.
Who is responsible?
When a motor vehicle accident happens, it can happen fast. So fast, you may not even remember all the details. That is why it is important to know and understand what to expect in advance. If you've already been involved in a motor vehicle accident, call us for a free case review so we can help you assess your options.
In the immediate aftermath of any serious motor vehicle accident, first responders will attend to all injured victims and the most seriously injured will be transported to the nearest medical facility. Law enforcement on the scene might then begin an investigation to learn what happened and to make an initial assessment of "who was responsible" for causing the accident. Evidence will be identified and secured. The individuals involved in the accident, and anyone who witnessed the accident, will typically be interviewed and asked to give signed or recorded statements. Where serious injuries or death occurs, the investigation will be ongoing and may lead to the imposition of charges arising from the violation of any applicable laws or regulations found to have contributed to cause the accident.
This process is important to know because serious motor vehicle accident investigations are usually complicated. Legal compensation for injured victims may be based upon a determination by law enforcement investigators of who was responsible for causing the accident and whether their conduct was in any way negligent or in violation of the law.
Depending on the severity and type of injuries suffered, recall of what occurred prior to or during a motor vehicle accident can be foggy at best and totally absent at worst. If you are at all unsure about what happened or what to say following a motor vehicle accident, it is best to immediately inform the investigating officer that you want to call a competent motor vehicle accident lawyer—one who is knowledgeable of and experienced in the laws and regulations surrounding motor vehicle accidents — before giving a signed or recorded statement. It is typically your right to do so. Otherwise, what you say may be used against you if your conduct is alleged to have caused the accident. Put our number in your cell phone right now and reach Dugan, Babij, Tolley & Kohler's experienced motor vehicle accident attorneys from the scene of any accident. Call (800) 408-2080 if you or a loved one has been involved in an accident. Call Dugan, Babij, Tolley & Kohler for immediate and free legal guidance and assistance.
Motor Vehicle Accident Guide to Compensation Claims
What is negligence?
The primary basis of legal claims for compensation arising from a motor vehicle accident is negligence which means the failure to use reasonable care under the circumstances. When the party responsible for causing an accident has committed a negligent act, that party can be legally found to have "failed to use reasonable care" leading to a finding of liability.
When a person or company is negligent, it generally means that there was a failure to exercise reasonable care under the same or similar circumstances or that they acted in a thoughtless or careless manner which caused harm or injury to another person. For example, a trucking company may be negligent by failing reasonably to ensure that its trucks are regularly inspected, safely maintained, safely operated, and that all appropriate safety procedures are followed.
The motor vehicle operator's negligence is typically determined by a complex analysis that also considers potential contributing factors, such as the reasonableness of the operator's conduct and behavior; the vehicle's maintenance, design, and operational safety; and the reckless intent of the vehicle's owner or operator. These factors and others may be considered when determining negligence and whether the driver violated the law.
Negligent operation of a motor vehicle can include such conduct as:
Distracted driving—texting or talking on a hand-held cell phone, adjusting the radio or CD player or using an electronic navigation system while driving.
Drunk driving—or driving while intoxicated or impaired by drugs or medications.
Reckless driving—speeding, tailgating or swerving in and out of lanes of traffic.
Failure to obey traffic signs—signals, stop signs, speed limits, one-way streets, and other traffic laws.
Failure to properly maintain a vehicle in a safe operating condition.
Proving Your Case Following a Motor Vehicle Accident
Motor vehicle accident laws are essentially legal standards that determine who is responsible for the personal and property damage resulting from an accident. Although motor vehicle laws vary from state to state, and differences do exist, in general, victims of motor vehicle accidents must prove four basic elements to receive compensation in a legal action. They are:
Duty of Care – Each motor vehicle operator has a duty to use reasonable care while operating a motor vehicle and to follow and abide by all applicable motor vehicle laws and regulations.
Breach of Duty – The failure to use reasonable care under the circumstances or the failure to follow applicable laws and regulations is a breach of the duty of care and forms the basis of a claim of negligence.
Causation – The breach of duty must be shown to have been a cause of the claimed injuries or damages.
Damages – No viable legal action can be brought unless there are discernable injuries or damages which were caused by the claimed negligence.
Every operator of a motor vehicle has an affirmative duty "to use reasonable care," to obey applicable laws and regulations, and operate their vehicle in a reasonably safe manner. For example, operators must drive at a safe and reasonable speed given existing conditions; must maintain vehicle control; must exercise appropriate awareness; must observe and comply with traffic signs and signals; and must use a vehicle's turn signals and headlights, and so forth.
In most instances, any motor vehicle operator who clearly violates traffic laws will be held legally responsible for a resulting accident. If the operator of the at fault vehicle is issued a citation resulting in a conviction for violating a traffic law or regulation, evidence of that violation may be admissible in any subsequent legal proceeding, such as in a lawsuit filed by the injured party for monetary compensation.
The existence of a legally enforceable duty of care is typically not subject to dispute in a legal proceeding. By contrast, a victim injured in a motor vehicle accident has the responsibility to prove that the defendant motor vehicle operator breached the duty to use reasonable care by offering admissible evidence of that breach. This breach of duty can be shown by direct evidence, such as eyewitness testimony, traffic surveillance video, or an admission of fault. If direct evidence is lacking or unavailable, the injured victim may need to rely upon indirect or circumstantial evidence to prove a breach of the duty of care. Such indirect or circumstantial evidence might include evidence of skid marks showing the path of the striking vehicle before impact; paint smudges showing where and how the impact between the vehicles occurred; or blood alcohol readings that prove operator impairment.
Further, the injured victim must prove that the defendant motor vehicle operator directly caused his or her injuries and damages. Even though the defendant has an affirmative duty to operate his or her vehicle in a reasonable and safe manner and it is proven that the defendant breached that duty, it will not be assumed that the breach necessarily caused the plaintiff's claimed injuries and damages. Although this may seem unfair to the victim injured by a motorist's breach of duty, the success of a case often falls squarely upon proving that the accident caused the claimed injuries.
In motor vehicle accident cases, proof of causation is often accomplished through the introduction of competent medical testimony, demonstrating that the claimed injuries were indeed caused by the motor vehicle accident and that they did not exist before the accident. In other words, an injured plaintiff must affirmatively prove the claimed injuries and damages were suffered and sustained because of the motor vehicle accident.
No matter how egregious the negligent conduct of the motor vehicle operator, an injured plaintiff cannot successfully bring a negligence lawsuit without proof that the negligent conduct caused discernable injuries, damages, or losses. In fact, so called "near miss" cases will typically not qualify for compensation. But once injury or harm is proven, the injured plaintiff may be entitled to compensation for such damages as past and future medical expenses, physical and emotional pain and suffering, past and future lost wages, and related damages based upon the extent, duration, and nature of the injuries sustained.
First Things You Should Do After a Motor Vehicle Accident
The actions taken by a victim of a motor vehicle accident may have a significant bearing on whether or not he or she may be eligible for compensation in any ensuing legal proceeding. General guidelines for what should be done after any motor vehicle accident resulting in injury include:
Seek Emergency Medical Help:
After a motor vehicle accident resulting in any suspected injury, the first thing you should always do is to request and obtain emergency medical assistance and treatment. Call 911 and request emergency medical assistance for anyone who might be injured including you, any motor vehicle passengers, or the operator of the other vehicle. The safety, health and well-being of you and your family should always be the top priority.
Get Information about the Other Vehicle:
If you or someone with you are uninjured and can gather some information, try to obtain and write down all the information you can about the operators and other vehicles involved in the accident. At a minimum, obtain the name and address of the other driver(s) involved, the driver's license number, license plate number(s) and motor vehicle insurance information.
Take Pictures:
Take pictures of everything that you can. Your cell phone is your greatest asset. Photograph motor vehicle insurance cards, motor vehicle operator's license documents, motor vehicle registration documents, and vehicle license plate numbers. In addition, if possible, photograph the damage to the vehicles involved in the accident and the surrounding scene.
Record Statements:
On the scene, record or take notes of any statements made by other drivers involved in the accident and those of any available witnesses. Again, your cell phone is your most valuable tool. Use it to record voice memos and the statements of others.
Call the Police:
Calling the police is important—and in some states, it's legally required. The police may obtain witness statements and collect evidence of the accident circumstances which is often critical in legal claims. Certain specially trained officers may perform an "accident reconstruction" that can provide important evidence on what factors may have caused or contributed to the accident.
Notify Your Own Motor Vehicle Insurance Representative:
Notify your insurance agent, even while you're at the accident scene, if possible. Many times you'll be informed of what needs to be done to process any insurance claims, especially if your vehicle has been damaged.
Request a Police Accident Report:
The official police accident report may be very important when subsequently trying to prove fault or negligence. If possible, always ask the investigating police officer if an official report of the accident will be generated and what the report number will be. Also, obtain the investigating police officer's name and identification number. Such information may facilitate follow-up inquiries, since an official police report may take some time to complete. The final report will include information regarding any motor vehicle charges or violations of the party that caused the accident.
Mistakes to Avoid After a Motor Vehicle Accident
Motor vehicle accident scenes are commonly chaotic and stressful. It is easy to make mistakes that might subsequently impair your ability to obtain fair compensation for any injuries or damages you or your family may have suffered or sustained. Some of the most common mistakes are:
Leaving the scene of the accident before the police arrive.
Failing to obtain information about the other driver(s) or vehicles involved in the accident.
Failing to request or obtain medical treatment for obvious injuries or hoping that such injuries will necessarily resolve without treatment.
Failing to contact the police or to request a police accident report.
Giving written or recorded statements to others without the guidance of a lawyer.
Most critically, be careful when responding to questions from representatives of the at fault driver. Many accident victims will speak with or even give written or recorded statements without first obtaining the guidance and counsel of a lawyer. For example, it is not unusual for the at fault driver's insurance company to attempt to obtain information and statements directly from the injured victim or victims without their lawyer's knowledge or consent. Too often, such insurance adjustors may try to encourage or even pressure an injured victim into signing a "release," waiving his or her legal rights in return for an inadequate or unfair settlement of the victim's claims.
Avoid these mistakes. Before you sign or say anything to any representative of the at fault motor vehicle operator after a motor vehicle accident, be sure to consult a competent lawyer.
Compensation Arising from a Motor Vehicle Accident
As the victim of a motor vehicle accident caused by another's negligence, you may be entitled to compensation. Such compensation will usually include recovery for property damage, such as the value of your damaged car and belongings, and for your own personal injuries. The compensation to which you may be entitled can be influenced by numerous factors including:
The amount of medical bills and expenses incurred in the past.
Potential future medical expenses.
Past and future loss of wages and/or loss of earning capacity.
The so-called "non-economic damages" sustained to date and probably to be incurred in the future, such as:

Compensation for physical and emotional pain, suffering, and pre-impact fright.
Compensation for physical impairment, disability, or disfigurement.
Compensation for loss of enjoyment of life.
In addition, you may receive compensation directly from your own motor vehicle insurance company. If your insurance policy includes uninsured or underinsured motorist coverage, your insurance company may be required to compensate you for your injuries, damages, and losses if the at-fault party is either not insured or is inadequately insured. If someone was killed in the accident, or died later because of his or her accident related injuries, designated family members or legal descendants may be entitled to compensation for wrongful death.
The motor vehicle accident lawyers of Dugan, Babij, Tolley & Kohler are experienced in investigating and litigating all types of motor vehicle accidents. We will help you recover just and fair compensation for all the injures, damages and losses which you or a loved one have suffered as the result of another's negligence. Contact us at (800) 408-2080 for a no-obligation, cost free consultation.
---
Obtain a free case evaluation